Return to Sullivans Island
New from HarperCollins, coming in July 2009!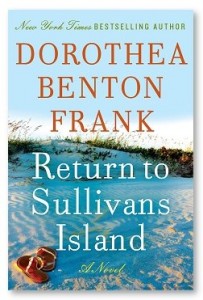 From Publishers Weekly – Review of Hardcover Edition
Frank (Sullivan's Island) creates a world in which aspiring writer Beth Hayes, whose chirpy internal monologues and quiet uncertainties make her easily endearing, is as much a character as the house she lives in. After graduating from college in Boston, Beth returns to the South to spend a year house-sitting her family's home, Island Gamble, while her mother, Susan, visits Paris. Frank's portrayal of a large and complicated family is humorous and precise: there's Susan, adoring and kind; Aunt Maggie, a stickler for manners; twin aunts Sophie and Allison, who run an exercise-and-vitamin empire; and uncles Timmy and Henry, the latter of whom has ties to Beth's trust fund. Frank's lovable characters occasionally stymie her pace; there's almost no room left for Beth's friends or her love affairs with sleazy Max Mitchell and cherubic Woody Morrison, though these become important later on. Frank is frequently funny, and she weaves in a dark undercurrent that incites some surprising late-book developments. Tight storytelling, winsomely oddball characters and touches of Southern magic make this a winner. (July)
Copyright © Reed Business Information, a division of Reed Elsevier Inc. All rights reserved.
May 7th, 2009